So glad it is finally Friday. Although my day has started off on kind of a sour note, I am hoping it will get better. Any who, it is time for Friday Letters. Remember to head on over to
Ashley's blog
if you want to join in.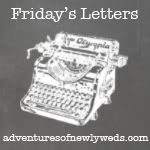 Dear MaKenzi,
Happy Birthday my sweet Niece! I can't believe that you are 6 today!! I am so proud of you little girl! You are growing up to be such an amazing person already and I love you more and more with each passing day! You amaze me more and more each time that I see you. You are so smart and you have such a big heart. I love you pretty girl and I can't wait to come surprise you at school today!
Dear Brad,
Happy Birthday! You are the best Step Dad I could have ever asked for and I love that you take care of my Mom the way that you do. Thank you for always being there for me and my family and considering us your children. We love you and can't wait to see you guys for Christmas!
Dear New Slippers/Shoes,
I seriously hope that you are at home. Because if not I definitely left you at work in my office and when I came in this morning, you weren't here. So either I am a complete spaz and don't remember grabbing you and putting you in my bag last night, or the people that clean our offices took you. I am really hoping that it is just me being a complete spaz.
Dear Hobby Lobby,
Why do you have to have so many great Christmas items? Every time I go in there, I end up buying something else. Like these, that I bought yesterday!
Dear Victoria,
I love you so much! Thanks for being such a great friend and a sister! I had a blast shopping with you last night!
Dear Weekend,
Go by slowly please!
That is all that I have for today. Have a great weekend everyone!