Hey guys!! I saw this link up and I just had to join in. I hope you guys do to! I am linking up with Raven at
A Momma's Desires and Pacifiers
to show off the one tattoo that I do have and the one.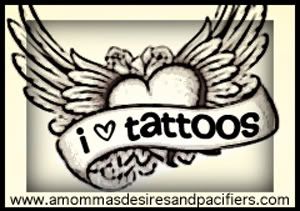 I got my first and only tattoo when I was 18. My Dad was always very against me having any and would always give me the line, "Not until you are 18 and out of my house!" Which is weird because my Mom has quite a few tattoos and had most of them when my parents were married. Anywho, I had about two weeks before I went to College and so my Dad FINALLY said it was okay to go get one. I think he did this because he wanted to make sure that I went to someone who knew what they were doing and of course my Dad just happened to have a friend that owned his own shop.
So, I went in knowing what I wanted and where I wanted it, but it was way too expensive for the almost poor College student, so I had to go with something a little bit smaller and that I could possibly add on to. So I got this, and to this day I still absolutely love it!!
Of course I got a butterfly! This was taken
right after I got it when I was 18.
I have been itching to get a new tattoo for a long time. My mom actually drew one for me that has all of my grandparents initials in it, but I just haven't had the moolah to be able to go and get it. Hopefully soon though. I need a new one so bad. And not to mention, I really need to get my first one touched up.
Well this was fun! You should head on over to Raven's blog and link up if you have a tattoo that you want to share!
Hopefully I will be back soon with some wedding recaps! I am still waiting on pictures right now and I just got back to work, so I have been really busy too! Sorry guys! Hopefully soon!