Happy Friday!! It's time for some Friday's Letters with Ashley from The Sweet Season.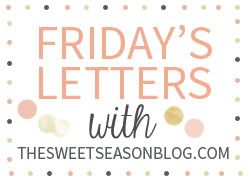 Dear Best Friends,
I love our random Facebook posts. They make my day and make me miss you guys so much more.
Dear Snow,
You can stick around as long as you like. It has been nice having you around old friend.
Dear Work,
Thank you for finally slowing down. I am finally able to catch my breath and it feels great. I have actually had downtime and have actually been getting things done. It's great!!
Dear Rapids,
Please win this weekend! I am so excited to watch the game. And you winning would make it that much better!
Dear Car,
I know you are tired, but I really just need you to hang on for a bit longer til we can afford to get a new one.
Dear Makenzi,
My oldest niece, you are getting so big. First you lost your first tooth this week and then you did amazing in your school musical. I am so proud of you baby girl!
Dear Kelsi,
My middle Niece, I am not sure where you get your fashion sense, baby girl. I know you are only four, and love to dress yourself. It's adorable now, but in a few years, an intervention may be necessary.
Dear Rylei,
My youngest and newest Niece, just when I think you can't get any cuter, you do! I love you baby girl! I can't believe you are already crawling. I can't wait to see more of your milestones. Like your first steps! And your first word!
That's all I've got today. I hope everyone has a great weekend!
And don't forget, if you would like to help host my giveaway please contact me by this weekend. For anyone who helps host, I will place your blog button on my sidebar for the entire month of March. It's kind of like free advertising. So if you are interested, contact me!