What's up Friday?! I have missed you so so so so much!!! I am glad that you are here once again.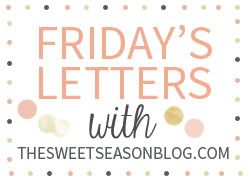 Dear Boston,
My heart goes out to all of you that live in or even near the city. This entire situation has just been awful and than add to that everything that is going on today. My heart is breaking for all of you. I am praying for all of you and for your safety. And to all of the first responders and everyone who has been involved with helping with anything in this situation, you are in my thoughts and prayers as well.
Dear Texas,
My heart goes out to you guys as well. For those that lost their lives in the Fertilizer plant explosion or those that were effected by it, my thoughts and prayers go out to all of you as well.
Dear Self,
You rocked this week. You were so good about everything that you ate and I am very proud of you. Almost down 12 lbs. That is awesome and I know that you can keep making amazing progress.
Dear K,
I am proud of you for rocking it this week too! We got this girl!
Dear Hunger Games,
I loved the trailer for Catching Fire and I can't wait until it comes out! I can't believe that I have to wait until November though. Ugh! I may not make it til then!
Dear Weekend,
Please have nice weather. I need to get stuff done in the yard and I need nice weather to do that, so please cooperate.
Okay, that is all I can get out of my brain today. CNN has me way too occupied. I hope everyone has a great day and a great weekend. And Boston and Texas, keep your heads up. I am sending all of my love and thoughts your way.