Yay!! It's Friday! And time for Friday Letters!!!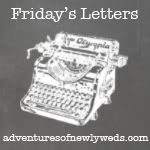 Dear Halloween,
You were a blast. But I wish you wouldn't have flown by so fast this year. And be on the lookout for me next year, because I fully intend on being super skinny by the time you roll around next year so that I can rock a slutty Halloween costume and feel good about it!
Dear Cassie(Sister-in-law),
Happy Birthday!!! I can't wait for you to see what we bought you. You are going to LOVE it!!! I hope you have an amazing Birthday!
Dear Work,
Thank you for slowing down a little bit this week. I definitely needed the break.
Dear Diet,
Please be patient with me. I am really trying to change my eating habits. I have been doing really well so far, but remember that I will make mistakes along the way.
Dear Tim Tebow's Girlfriend(If that rumor is even true),
You better be good to him. If not, I'm pretty sure every girl who has a crush on him will hate you and attack you on Twitter. Who am I kidding, they probably already hate you because you are dating Tim Tebow and they aren't(myself included)!
Dear Miranda and Blake,
You two are the cutest couple ever and you guys deserve all the success in the world. Your acceptance speech for Song of the Year at the CMA's last night had me in tears. Congrats on your wins last night!
Dear Zumba class,
I am seriously in love with you. I however do not appreciate how disgusting I am after your class because of how much I am sweating.
Dear Nieces,
You were the cutest Cinderalla, Tinkerbell, and monkey I have ever seen! I feel bad for your Dad, he is going to be scaring boys off left and right as you guys get older. It will be entertaining to watch however.
Dear Weekend,
Please go super slow. I know that you won't but I can ask right?
Dear Holidays,
I am so excited for your arrival!
Dear Colder Weather,
You can show back up at anytime. We appreciate that you stayed away for Halloween this year, but are now ready for your return!
Dear Daylight Savings Time,
I'm excited that I get an extra hour of sleep this weekend because of you, but I am not excited that it will now be dark when I walk out of work.
That's all I've got for today. Thanks for stopping by and I hope that you all have a great weekend!
Don't forget to link up with
Ashley
if you are joining in!